FULL TONE TONGUE DRUM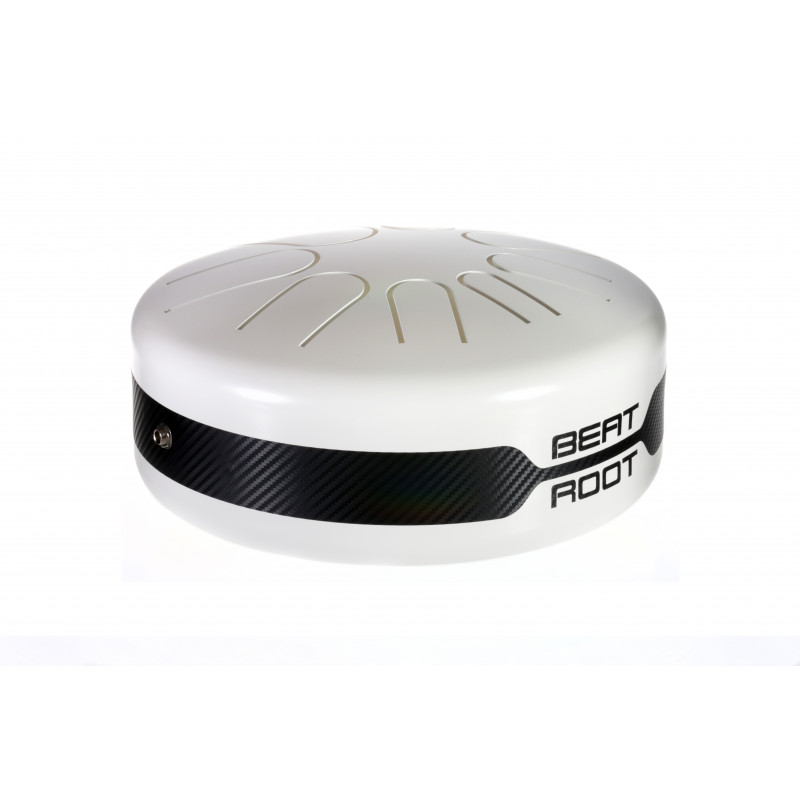  
The Full Tone Beat Root tongue drum in C has the particularity of offering the 8 notes of the C scale (C, D, E, F, G, A, B, C), and it offers 4 scales in the same instrument: C Major, C minor natural, C minor harmonic and C minor melodic.
You can change the scale very easily and very quickly thanks to its intuitive and innovative tuning system: less than 10 seconds are enough to go from one scale to another without any musical knowledge being required. No need for an electronic tuner or special accessories because we place colored stickers in the precise location where the magnets need to be positioned.
The Full Tone tongue drum, due to the scales it offers, is an ideal instrument for composition, musical awakening, relaxation, meditation, etc.
It can be complementary to the Multiscale Beat Root tongue drum as it consists of the same notes (except the F) but organized differently. Playing 2 Beat Root tongue drums side by side with common notes produces a natural "chorus": the identical notes resonate with each other and give us a beautiful "spinning" sound!
Available only in White
MALLETS AND CARRYING CASE INCLUDED
Returns
Exchange/return within


14 days

Please contact us if there are any issues - we love happy customers!
Worldwide delivery
France: free, 1-2 working days
Europe: free,  2-3 working days
USA: $65, 4-5 working days
Canada: C$85, 4-5 working days
Australia: $140, 4-5 working days
Other countries - individually
As all our other models, this tongue drum is made of the highest resilient steel and covered with anti-rust paint. However, it is recommended to avoid a prolonged exposure to water or rain.
The integrated microphone and the 6.3 mm jack will allow you to connect the Full Tone tongue drum to an amplifier or any other mixing device.
A pair of mallets is included with the tongue drum. You can also use your hands to play the instrument, which however may require some technical skills.
Detailed notes for each scale:
C major: C. D. E. F. G. A. B. C.
C minor melodic: C. D. Eb. F. G. A. B. C.
C minor harmonic: C. D. Eb. F. G. Ab. B. C.
C minor natural: C. D. Eb. F. G. Ab. Bb. C.
Data sheet
Dimension

30 x 30 X 17 cm

Weight

5 kg
Julien F. published the 18/08/2021 following an order made on 17/08/2021
Très satisfait de mon achat. Super son! Le système d'aimants pour transposer certaines notes et avoir plusieurs gammes est juste génial. Et que dire de la livraison... Reçu le lendemain de ma commande! Parfait, bravo!
Sylvain C. published the 05/04/2021 following an order made on 05/03/2021
Un accord différent des autres tongue drums, et la possibilité de modifier la gamme grâce à un système d'aimants. Très intéressant pour la composition musicale