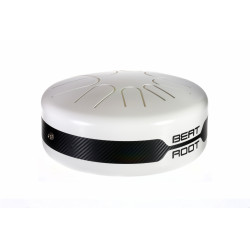 The Full Tone Beat Root tongue drum in C has the particularity of offering the 8 notes of the C scale (C, D, E, F, G, A, B, C), and it offers 4 scales in the same instrument: C Major, C minor natural, C minor harmonic and C minor melodic.
You can change the scale very easily and very quickly thanks to its intuitive and innovative tuning system: less than 10 seconds are enough to go from one scale to another without any musical knowledge being required. No need for an electronic tuner or special accessories because we place colored stickers in the precise location where the magnets need to be positioned.
The Full Tone tongue drum, due to the scales it offers, is an ideal instrument for composition, musical awakening, relaxation, meditation, etc.
It can be complementary to the Multiscale Beat Root tongue drum as it consists of the same notes (except the F) but organized differently. Playing 2 Beat Root tongue drums side by side with common notes produces a natural "chorus": the identical notes resonate with each other and give us a beautiful "spinning" sound!
Available only in White
MALLETS AND CARRYING CASE INCLUDED