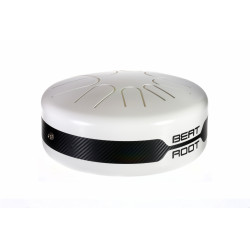 The Multiscale Beat Root tongue drum is the first tongue drum regrouping 6 different scales in one instrument. 
It is equipped with an amplification system which allows it to be connected to an amp, effects, sound cards etc. and most of all it comes with an ingenious tuning system which allows you to switch from one scale to another in a few seconds only!
This tunable tongue drum is perfect for those who want to experience different scales with their tongue drum (Major, Minor, Pentatonic etc…), to play in varied musical contexts or to make awesome easy recordings!
MALLETS AND CARRYING CASE INCLUDED